Learn about the KEYS Metaverse
8,888 luxury residences built on Ethereum
Join our exclusive community of 8,888 elite digital mansions in the KEYS Metaverse.
Meta Mansion

Savannah - Level 2

Kalissa

Mountain - Level 1

Mamba Court

Island - Level 3

Meta Mansion

Savannah - Level 3
The meta mansions
Island
Level I
The perfect unison of peace and freedom, converging to create the most heavenly biome in the KEYS Metaverse. But a mysterious phenomenon suddenly arises, radically transforming life for Island residents.
Level II
Delicate coral growths, starfish, seaweed, and other marine life begin to form in the surrounding environment.
Level III
The environment becomes overgrown by giant coral growths, starfish, and barnacles. Visible bioluminescence brings life to the shoreline as electric mermaids reveal themselves in the water and surrounding environment.
Level I

Level II

Level III
More than just a mansion
Become a legend in the KEYS Metaverse
The best aspects of real life, reimagined and reinvigorated without physical limitations. Live anywhere, be anyone, and build anything your imagination can dream of. Discover the KEYS Metaverse in our Litepaper: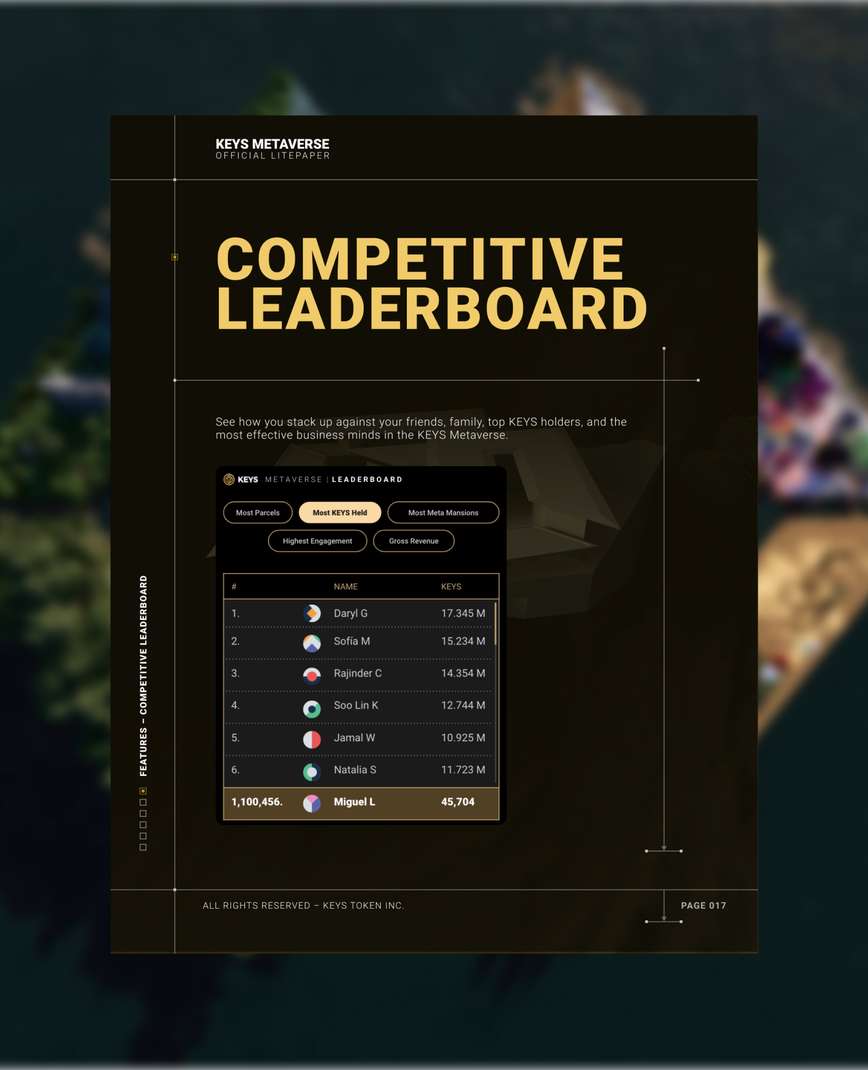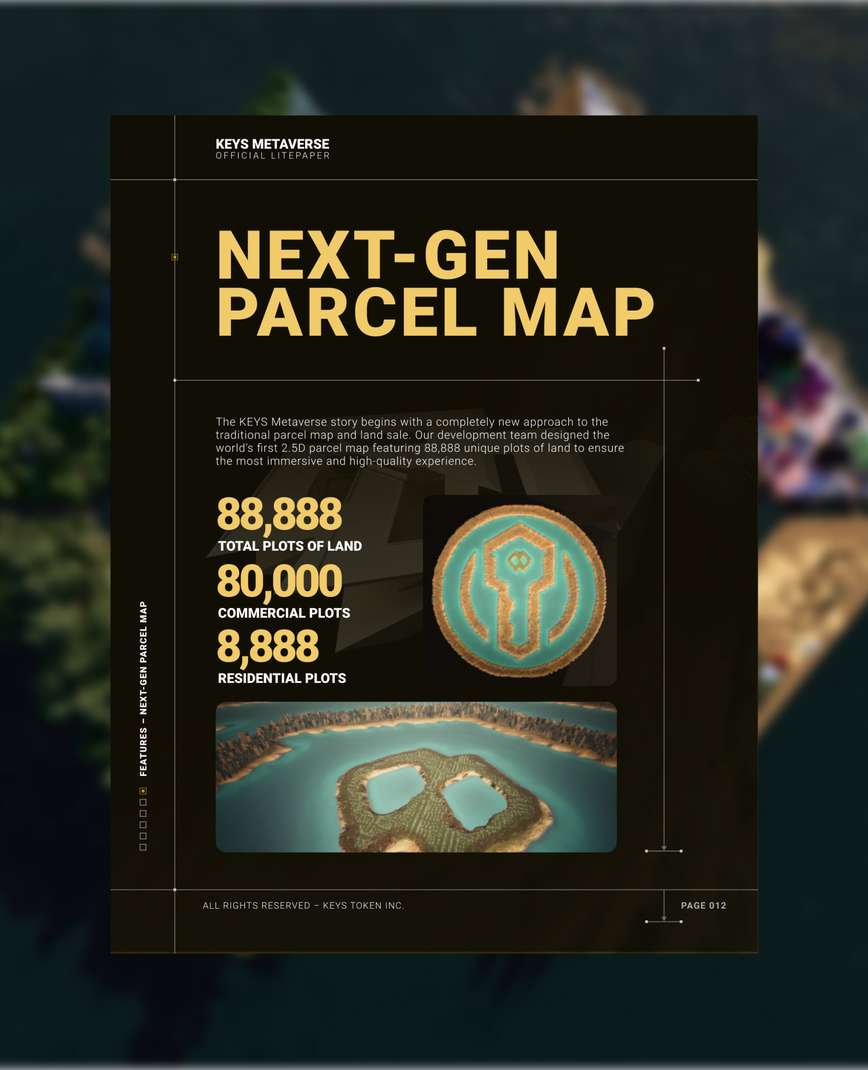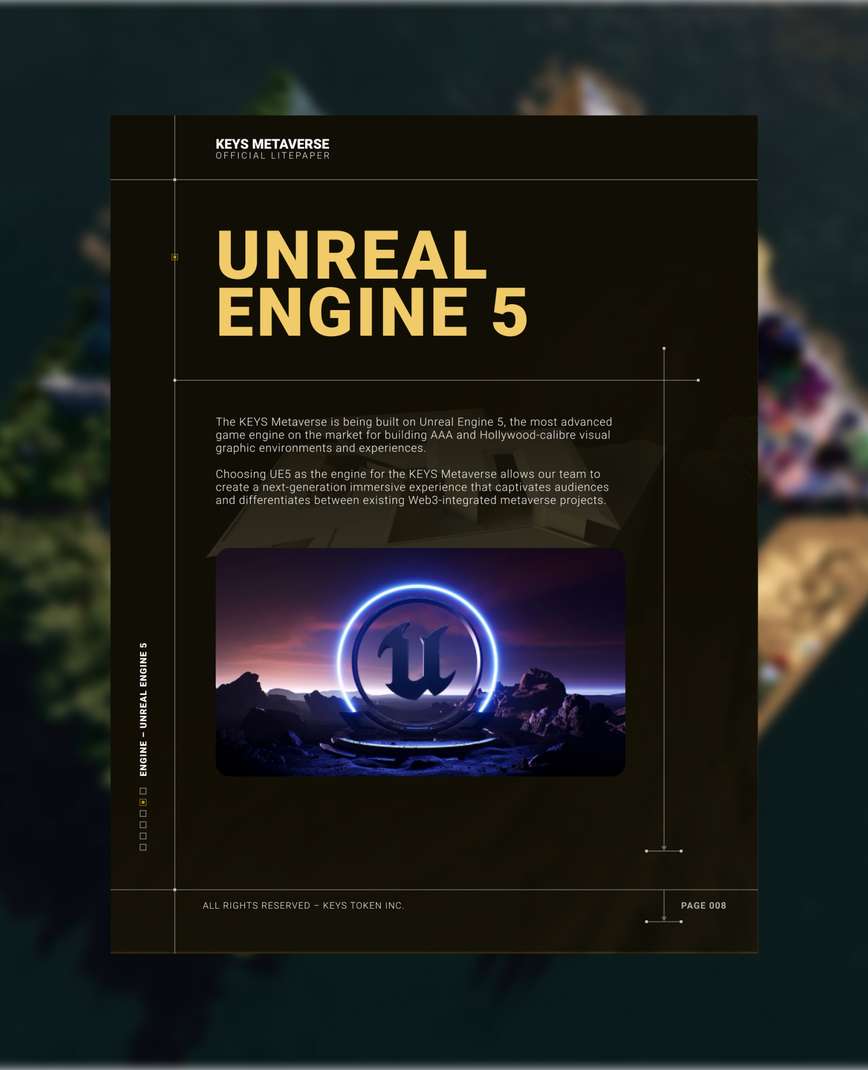 The Meta Mansions roadmap
Blueprint
The Meta Mansions Blueprint is designed around merging your NFT experience with both the physical and digital world.
KEYS Token Launch
KEYS Token successfully launches on Nov. 18 2021

Onboard world-class development team

Initiate global marketing efforts

KEYCard V1 NFT sells out in 32 seconds on Dec. 28 2021
Meta Mansions Launch
Onboard Unreal Engine 5 Meta Developers

Partner with Veliz Arquitecto as Lead Designer

Finalize Biome and Map Development

KEYS Metaverse initiation with Genius Ventures Inc.

Meta Mansions Website Launch

Tier 1 Whitelist (Mamba) Mint opens on March 18 2022 @ 10AM PDT (6PM UTC)

Tier 2 Whitelist (Whale) Mint opens on March 18 2022 @ 2PM PDT (10PM UTC)

Tier 3 Whitelist (Stacker) Mint opens on March 18 2022 @ 5PM PDT (1AM UTC)

Announcement of Phase 2 Process

Phase 2 Airdrop Completed on July 18th, 2022
KEYS Metaverse Launch
Single Player Experience Alpha Launch with one Mansion in one Biome

Development of all mansions in all biomes

Monetize your Meta Mansion through product placement, rentals, special events, showrooms, and much more!

Multi-player experience alpha launch

2.5D Parcel Map Development

Metaverse Creator Tools Release

Full KEYS Metaverse experience
Biography
CEO & Co-founder
Nima Ghassemi
From building mansions in real life to creating the largest real estate network on instagram with the @Houses network, Meta Mansions is the convergence of passion, creativity, and belief in the new era of virtual real estate, web3 and decentralization. It's a special time to be alive and create the future of human interaction.